Children
"All your children will be taught by the LORD, and great will be their peace." Isaiah 54:13
This worship program is offered to preschoolers (ages 3-5), as well as older children in grades K-3 who attend the 9:00 and 11:00 am Sunday Masses during the school year. Children are invited to follow our catechists to the Meeting Rooms to experience the Liturgy of the Word in a manner which they can understand and embrace. Discussion and prayer are part of this worship experience. Adult catechists and adult and teen assistants are needed to support this vital ministry. No prior experience needed. All materials are provided.
We are always looking for new CLOW Catechists! If you are interested in helping teach Children's Liturgy of the Word, please contact us in the Parish Office.
Click here for the CLOW brochure.
CONTACT: Parish Office: 330-867-1055 or church@sthilarychurch.org
Boys and girls in grades 6 and up (from St. Hilary School, P.S.R., or home schooled) assist the priest at weekend liturgies by serving at the altar of God. Adult servers are needed for weekday Masses and funerals.
TIME COMMITMENT: Serve 2 to 3 times per quarter.
CONTACT: Fr. Steve Brunovsky at ext. 204 or sbrunovsky@sthilarychurch.org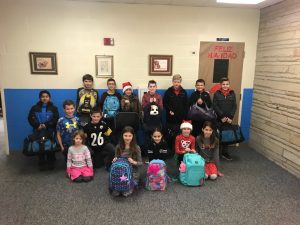 Family Catechesis is a home-school PSR program which provides instructional guides, grade-level specific text books and online resources. Parents will be assigned specific themes of Catholicism monthly to teach their children at home. Families come together one Sunday morning each month to examine these themes through prayer, games, stories, and activities. All participants are encouraged to participate in our Monday night PSR seasonal events such as the Christmas Pageant, Mardi Gras, Stations of the Cross, and Choose Life presentations.
CONTACT: Jeannie Hohlefelder, (330) 867-1055, ext. 213 or jhohlefelder@sthilarychurch.org
This small Christian community of women of diverse ages meets for prayer, faith sharing, and study. In addition, a few service and social activities are planned throughout the year. Bring along young children for a supervised "playdate" with our babysitter. Mothers with infants are also welcome.
"I enjoy Family Life so much because it is a group of incredible, spiritual women who are all so inspiring. They and the studies we do help me live a Christ-centered life. It is like attending a mini-retreat on Monday mornings!" –Julie Angle
"As a mother, I feel that I have grown up spiritually with the women of Family Life. The faith formation and sisterly fellowship that the group provides are an invaluable resource that supports my vocation and a wife and role as a mom!" – Joya Hart
CONTACT: Parish Office: 330-867-1055 or church@sthilarychurch.org
The Family Spirituality Committee plans and presents short, one-time happenings and activities based on the liturgical seasons. Most events take place on Sunday mornings after Mass. These opportunities allow individuals and families to embrace Catholic culture while sharing fellowship and on-going faith formation.
CONTACT: Sign up to receive email notifications of upcoming events by contacting Jeannie Hohlefelder at (330) 867-1055, ext. 213 or jhohlefelder@sthilarychurch.org