Dear St. Hilary Parishioners and School Families,
As a new school year begins, we at St. Hilary are beginning the 6oth Anniversary of St. Hilary School!  As we strive to form our young people in mind, heart, and soul, we are endeavoring to connect our parish and school community to a community far from us in a spirit of "solidarity", which is one of our accreditation goals! To that end we have partnered with Educate the Congo, a Foundation started by Gaspard Nzita, to build the St. Hilary School of the Congo in Boma, Democratic Republic of the Congo.  Gaspard Nzita, now a resident of Green, Ohio is from the Democratic Republic of the Congo and with the financial help of Father Joseph Kraker, fulfilled last year a promise to his mother to build a hospital in their village.  Once the hospital, St. Joseph Community Hospital, was a success, the idea of building a school began to blossom.
The hope is to connect the children of both St. Hilary Schools as future friends and virtual classmates and to give our students a feeling of accomplishment in bringing about a safe place for other children to learn – just like them.  The children of Boma presently have to walk miles through the jungle just to get to a school, so most of them don't go. A new school in their village will be a game changer!
The idea of the fundraiser began with a small group of parishioners who met with Father Steve Brunovsky and St. Hilary School Principal Mrs. Woodman.  Father Steve, who knows Gaspard from the hospital project, suggested a correlation with our school's 60th anniversary and participation of the parish especially in light of our school theme this year "Answer God's Call…Change the World" and our patron saint this year, St. Katherine Drexel, who formed her own religious order specifically to provide a Catholic education to poor children of African American and Native American descent.
The building of the school is being done entirely by volunteers of the village without any wages. No machinery was used to clear the land or dig the foundations for the new school…it was all done by hand! Stones for the foundation were transported by truck and broken up by hand to fit the trenches.  The bricks are all made by hand on site and dried in the sun. Wood forms are used to create the bricks which make up the window areas. Wood will be used for the rafters which will support corrugated metal roofing.
The plan is to build 10 classrooms and a large assembly room.  The estimated cost for material per classroom is $2,000, and $8,000 for the assembly room, for a total cost or $30,000. Can you imagine building a whole school for $30,000?! We have already secured leadership donations of $12,000 and still need $18,000 to complete the building project.  In addition, pigs are being purchased as a way for the teachers to earn money through breeding new pigs and selling them!  We are asking our fellow parishioners to help achieve this goal along with the school children – and help both the children of St. Hilary, Fairlawn, Ohio and the children of Boma, Republic of the Congo, to realize their dream of "Answering God's Call – And Changing the World!"
Thank you so much!!!
Sincerely,
Fr. Steve Brunovsky, Pastor
Mrs. Jennifer Woodman, Principal
To support this effort, please make your donation to St. Hilary Church, and designate it for the "Educate the Congo Project"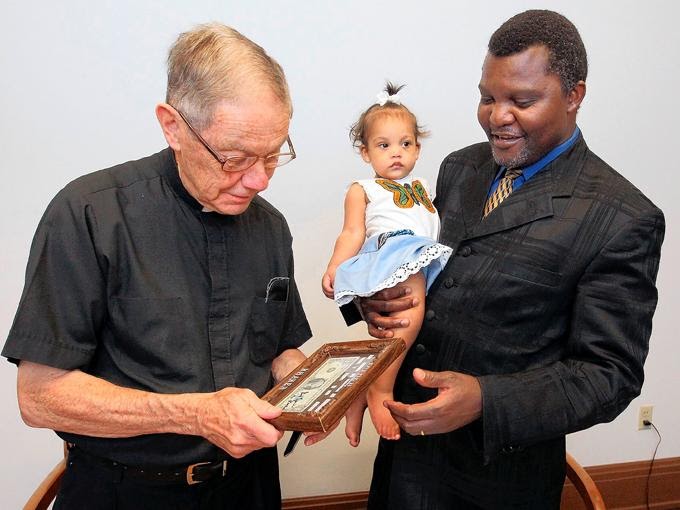 Originally included in St. Hilary's Ministry of Praise September 2020 Booklet
Written by Betty Sobieski
I wish now to tell you about Gaspard Nzita of Green, Ohio formerly of the Democratic Republic of the Congo. His story will involve the community of St. Hilary Parish and the school. Gaspard's story has been in both the Akron beacon Journal and the West Side Leader Gaspard tells us of a promise he made to his mother when he was 13 years old. He was then living in a poor area of the Congo when he witnessed the death of his sister because of the lack of equipment and medical supplies. So he was as his sister slipped away. Her death seemed senseless to this young teen and it angered him. Seeing his mother's tears, he promised her that when he grew up, he would build a hospital since no one should die like his sister from simple preventable diseases.
Gaspard's older brother was awarded a scholarship to be educated in the United States and while he was here was able to sponsor Gaspard to come over. Gaspard came to the States at the age of 17 years old. He started working in an area nursing home as a nurses' aide and while working there an elderly woman asked him where he was from. Gaspard told her and also his 'dream' of building a hospital in his village of the Congo. The woman told him to contact Father Joseph Kraker at St. Vincent Parish in Akron and that she was sure Father would somehow help him.
The woman continued to ask him if he contacted Father Kraker. After about six months, he shared his dream with Father. Since Father Kraker has not returned yet as being pastor of St. Vincent, he gave Gaspard $1.00 as the first donation for the building fund. Gaspard kept that $1.00 as a symbol of the 'dream hospital' coming true. After twelve years, Father Kraker retired from St. Vincent Parish and became involved and built the hospital that was the dream of a young teen to help others. Many supported him in prayers and also with finances.
Gaspard and his brother Stephen, with the help of others, founded the International Christian University of the Congo where medical students receive training and work at St. Joseph Hospital that Father Kraker built. They also started an orphanage in Kinshasa.
After having met Gaspard last spring and his sharing of another dream of building a school for so many children that have to walk miles through the jungle to attend a school, we spoke to Mrs. Jennifer Woodman, the principal of St. Hilary School and father Steve. So now the dream of St. Hilary School of the Congo is in formation! Father Steve, who knows Gaspard, wants to correlate a fund raiser for the 60th anniversary of our parish school along with the help from the parishioners of our parish.
The school will donate any school and sports uniforms to this new school. There are so many children that will attend this Congo school which is built by all volunteers. Before the virus had kept us home bound, we were able to raise some money from a group of wonderful families to begin this school. The volunteers have to rent trucks to bring in boulders from the jungle which costs $80/truck load. It costs $50 for cement to make 150 bricks. They will need supplies for the roof, doors, and windows. They hope to build at least 8 classrooms and more if possible at $2,000 per room. They have teachers that will not only teach the children reading and math but also trades so that their education will be used to further the building of the Congo.
There is so much poverty with children that have been left either as babies or if parents could not care for them. Gaspard tells a story of finding 80 children living under a bridge. The older ones used the younger ones to beg and bring food home for the group. If they didn't bring back something they were beaten. Gaspard was bale to save 13 younger ones and they are no living in a house where local women bring in meals. They eat rice and vegetables from gardens and some meat when possible. Gaspard tells about a young boy that was abandoned by his parents and when asked what his name was, he responded "Doctor." He told Gaspard that he will become a doctor someday!
So the death of Gaspard's sister will bring about not only a hospital for these people but also a school to educate so many children. With God and your help – no matter how small – remember what Malala said, "One Child, One Teacher, One Book and One Pen can change the world!"
Help us save a little part of this world!
To commemorate St. Hilary School's 60th anniversary, students will assist St. Hilary Pastor Fr. Steve Brunovsky in planting a tree on the west side of the school campus.  The tree planting ceremony will take place on September 28 at 2 pm.  One student from each classroom will participate.  As the school marks this milestone in its history, the St. Hilary community is also proud to be a part of the history of another St. Hilary School half a world away. St. Hilary of the Congo is being built entirely by hand by the people of Boma, Democratic Republic of the Congo, with financial assistance from St. Hilary Parish and School. The hope is that the two schools will become sister schools and the students of both school will become long-distance friends.
St. Hilary School's theme this year "Answer God's Call…Change the World" and our patron saint this year, St. Katherine Drexel, who formed her own religious order specifically to provide a Catholic education to poor children of African American and Native American descent.
We invite you to pray the Saint Katharine Drexel prayer below, as well as learn the song our students are learning and singing this year. Our school Mass is live streamed each week on Friday's at 9:30 AM on our St. Hilary Parish Facebook Page.