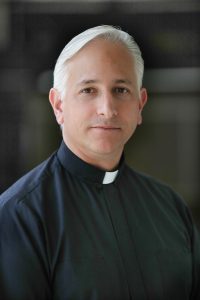 Fr. Steve Brunovsky, Pastor
Fr. Steve was born in Cleveland Ohio on Sept 29th 1965 to Paul and Kathleen Brunovsky.
He was born two minutes after his twin sister Susan, who resides in Chicago, Illinois and works as a nurse at Northwest University Hospital. Fr. Steve has a brother who is 13 months older, Fr. Michael Brunovsky, a priest of the Benedictine Order of Cleveland, and teacher at Benedictine High School. Fr. Steve also has a younger brother, John who lives in Independence with his wife Cindy and sons Nate and Alex.
Fr. Steve grew up in Seven Hills and attended St. Columbkille parish and grade school as well as Padua Franciscan High school. His discernment of the call to priesthood led him to attend Borromeo College of Ohio, the minor seminary of the diocese of Cleveland, as well as St. Mary Seminary and Graduate School of Theology.
Fr. Steve was ordained a priest for service to the Diocese of Cleveland on May 30, 1992. His first assignment was at St. Paul Parish in the Firestone Park neighborhood of Akron, thus beginning his association with Summit County and the Southern region of the Diocese. He was transferred to St. Mary Parish in Hudson in June of 1997. In June of 2003 he was transferred to St. Francis Xavier Parish in Medina. With his appointment on March 15, 2007, Fr. Steve became the fourth pastor of St. Hilary parish in Fairlawn. Fr. Steve is thrilled to be in Summit County and the Akron area, and is delighted that his assignment keeps him a short half hour from his dad who still lives in Seven Hills, and smack dab in the middle of all three of his previous assignments!
Fr. Steve is quick to tell people that he is 100% Slovak, and will try and teach parishioners how to roll their R's so they can pronounce his last name. Fr. Steve is grateful for this opportunity to be a part of the 60 + year history of St. Hilary Parish. His hope is that together we will continue to Transform Live for Jesus Christ!
Email:
Phone:
330-867-1055, ext. 204