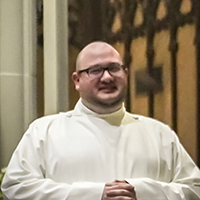 Deacon Joshua Trefney
Joshua was ordained a Transitional Deacon for the Diocese of Cleveland on April 27, 2018 and is looking forward to his assignment at St. Hilary Parish with great joy and excitement!
Joshua is 28 years old and is the second son of Albert and Phyllis Trefney. He grew up in the West Park neighborhood of Cleveland, where his parents still live. Joshua graduated from St. Ignatius High School class of '08. All through high school Joshua was involved in the Westlake Area Youth Group, a joint youth group for St. Ladislas and St. Bernadette parishes in Westlake. Joshua later joined St. Ladislas Parish as his home parish. After two years of studies at Tri-C, Joshua spent a year living with Madonna House Apostolate in Comberemere, Ontario, Canada, which is a lay ecclesial community that lives a simplistic lifestyle founded by Catherine Doherty. While there, Joshua felt called to become a priest for the diocese of Cleveland. Upon returning from the Madonna House Apostolate, Joshua began studies at Borommeo Seminary, graduating in 2014.
Since then Joshua has been studying at St. Mary Seminary and Graduate School of Theology. Joshua is a painter and supporter of the arts having participated in and curated group shows at several galleries in the Cleveland area, and he hopes to continue to support the artist community as a priest one day. Joshua, having focused on the nature of healing and healing prayer in his thesis work, hopes to use his knowledge and experience to draw others into deeper unity with the Trinity.
Email:
Phone:
330-867-1055